Dennis DeYoung and the Music of Styx Live - Double CD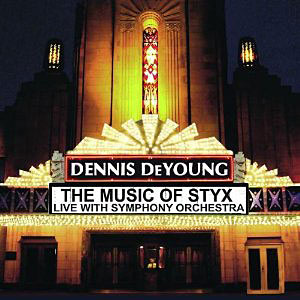 Recorded live on April 4, 2004 at the Historic Chicago Theatre
Dennis DeYoung and his band with a 40 Piece Symphony Orchestra and the Voices of the Chicago Childrens Choir. This 2-hour CD set is a retrospective of Dennis Deyoung's career plus 3 brand new songs.
Price: $18.98 + S&H + SALES TAX (IL residents).
TRACK LISTING:
1. Intro- Light Up (Symphony Intro)
2. Grand Illusion
3. Lady
4. Best of Times
5. Ave Maria
6. With Every Heartbeat
7. Mister Roboto
8. Don't Let It End
9. Lorelei
10. Babe
11. Come Sail Away
To order by mail in the US, please send check or money order for $23.93 (includes $4.95 for S&H) Illinois residents please send $31.03 for 9.00% sales tax to:
Dennis DeYoung.com
655 Mulberry Rd.
Manteno, IL 60950
Allow 10-14 days for delivery (US), allow 3-4 weeks for international orders.