A Love Foretold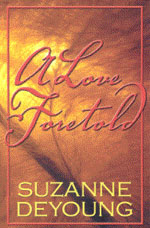 Better is the scanty store of the just
Than the great wealth of the wicked
For the power of the wicked shall be broken
but the Lord supports the just."
-Psalm 37
Suzanne's First book, published by The High Road, is now available. Included is a new song, written and recorded by Dennis for the book
"A Love Foretold" has been selected one of two Finalists in the Independent Publishers Book Awards for 2004, Romance Category.
My dearest Suzanne,
I'm so proud of you and your incredible first novel, A Love Foretold --so proud that I was inspired to write and record a brand-new song based on your story.....
All my love,
Dennis